Time:6th - 9th,December,2018
Place:MMRDA EXHIBITION CENTER,Bandre-Kurla Complex,Mumbai,India
Booth:GJ15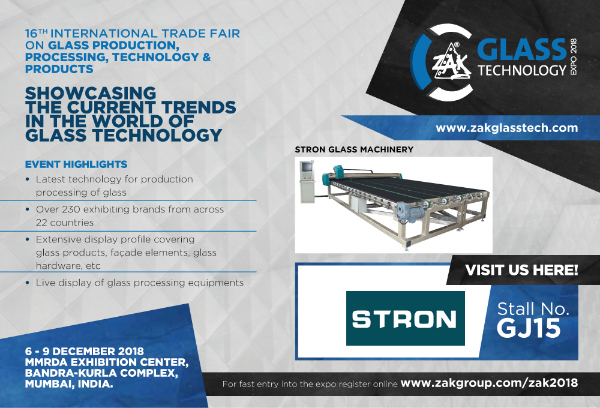 "International Exhibition for Glass Technology."

ZAK Glass Technology International is a 4 day event being held from 6th December to 9th December 2018 at the MMRDA in Mumbai, India. This event will be a platform where the industry pioneers will showcase state of the art products and technologies. With around 230 brands exhibiting from across the world, the expo is the best platform to expand your horizon of possibilities at showcase solutions to the Indian Glass fraternity.
The Zak Glass Technology Expo is India's first expo on glass processing technologies. With displays of new technologies in sliding windows, railings, curtain wall systems, cladding, composite doors, hardware, fixing systems and much more, it is the leading platform to discover latest products in the world of glass.
Our booth will be located at GJ15. We will show the excellent features of China's glass machinery to the world. At the same time, we will learn from the advanced fields and directions of the global glass industry, and pursue world-renowned culture. In this glass exhibition, we will provide our best products and solutions to customers on site.
In the context of global resource integration of "the Belt and Road Initiatives"", a large amount of infrastructure construction in the countries along the way has provided huge market space for the glass industry. In line with the global sales and service system, shichuang will vigorously provide high-quality products and services for the glass industry.